Not only the greatest but all Dylan's Bootleg Series records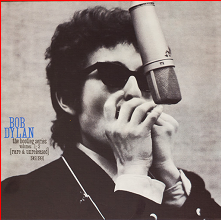 The Bootleg Series, Vols. 1-3
March 1991

(Rare & Unreleased) 1961-1991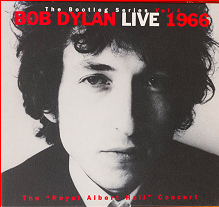 The Bootleg Series, Vol. 4
October 1998

Bob Dylan Live 1966
The "Royal Albert Hall" Concert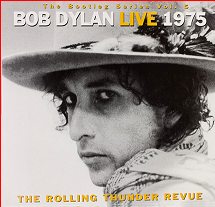 The Bootleg Series, Vol. 5
November 2002

Bob Dylan Live 1975
The Rolling Thunder Revue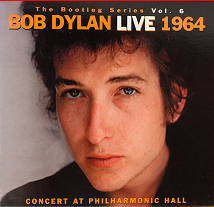 The Bootleg Series, Vol. 6
March 2004

Bob Dylan Live 1964
Concert at Philarmonic Hall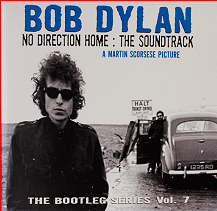 Bootleg Series Vol. 7
August 2005

No Direction Home
The Soundtrack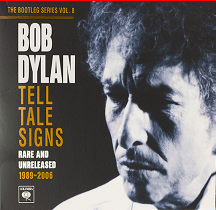 The Bootleg Series, Vol. 8
October 2008

Tell Tale Signs
Rare and Unreleased 1989-2006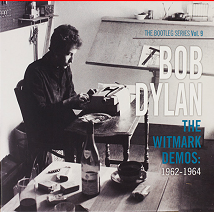 The Bootleg Series, Vol. 9
October 2010

The Witmark Demos: 1962-1964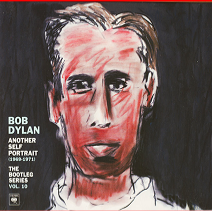 The Bootleg Series, Vol. 10
August 2013

Another Self Portrait (1969-1971)
Released to satisfy the enormous demand for Dylan's much-bootlegged unissued material, it contains rarities and unreleased works from the sessions for 1962's eponymous debut "Bob Dylan" to 1989's "Oh Mercy!". Of the 58 total tracks, 47 are session outtakes from the recording sessions for Dylan's studio albums. The remaining eleven tracks are with two exceptions live recordings and demo records, three of the latter being later duplicated on volume 9 of the series. There is much to treasure in this three-disc set. The songs are as good as anything that made the original records (sometimes surpassing those releases), plus some alternate versions. Dylan, probably the greatest songwriter of his era -- after all, every song here would qualify as the best song on anybody else's album.
This is probably the most famous bootleg record in rock history. It was recorded 32 years earlier and bootleg copies started to circulate just a couple of years later. The record was always known to be recorded at the Royal Albert Hall, May 17, 1966, but it was actually recorded in Manchester (hence the unwieldy title with quotes around "Royal Albert Hall"). It has been expanded into a two-CD set that not only includes the eight electric rock songs from the original bootleg, but also the seven solo acoustic performances that comprised the first half of the show. It captures the point at which Dylan was at his most controversial and hard rocking as he blazes through mid-'60s classics such as "Like a Rolling Stone" and "Ballad of a Thin Man," radical electric arrangements of songs that had originally been recorded acoustically ("One Too Many Mornings," "I Don't Believe You"), and the hard rocker "Tell Me, Momma," which Dylan never recorded in the studio
The Rolling Thunder Revue documents the tour of the same name, led by Bob Dylan prior to the release of the album "Desire". This is the first official release of the material, though it has been heavily bootlegged over the decades. Until the release of this album, the only official live documentation of the Rolling Thunder Revue was the live LP "Hard Rain", recorded during the second leg of the revue. "Hard Rain" though, is nowhere as good as the material on this compilation. This 2-CD set got a warm reception from critics and fans, though some lamented that it does not document, or emulate, a typical complete show from the tour.
The material on this compilation has also been available on bootlegs for decades. The set list is dominated by Dylan's protest songs, including "The Times They Are a-Changin'," "A Hard Rain's a-Gonna Fall," and "The Lonesome Death of Hattie Carroll". Joan Baez, a major supporter of Dylan's in his early career, duets with Dylan on three songs, as well as singing another alone ("Silver Dagger"). But this session also previews the material from "Bringing It All Back Home", early versions of "It's Alright Ma (I'm Only Bleeding)" and "Mr. Tambourine Man" can be heard, showing Dylan moving in a new direction. For those interested in the acoustic Bob Dylan, this concert is like the grail; his voice is in impeccable shape, and his delivery is revelatory. The Sound is spectacular, wonderfully warm and immediate.
This was released in conjunction with the Martin Scorsese television documentary on Dylan, called "No Direction Home" and features previously unreleased material from Dylan's formative years to his legendary 1966 world tour. Unlike the previous three installments of The Bootleg Series, which focused exclusively on live concerts, "No Direction Home" is assembled from a variety of sources, including home recordings, publishing demos, alternate studio takes, and live recordings, with the first disc devoted to early acoustic recordings and the second to electric music. All of this material -- with the exceptionof two songs -- is previously unreleased, and much of it has not been widely bootlegged.
Containing 27 tracks, the material here dates from the albums "Oh Mercy!" through to 2006's "Modern Times". It presents a carefully prepared sonic treat of a genuine enigma's musical world-view. Two astonishing highlights here are the opening track "Mississippi" and the previously unreleased "Red River Shore". "Mississippi" orginally appeared on the album "Love and Theft", here it is with only Daniel Lanois' electric guitar as backing and shows Dylan in full voice, performing it as a midtempo blues.
This consists of demo recordings Bob Dylan made for his first two publishing companies, Leeds Music and M. Witmark & Sons, from 1962 to 1964 a period that roughly spanned "Blowin' in the Wind" to "Mr. Tambourine Man. Many of his early classics were first essayed here -- "A Hard-Rain's Gonna Fall," "Masters of War," "Don't Think Twice It's Alright," "Boots of Spanish Leather," "Girl from the North Country," "The Times They Are A-Changin'" -- and he also cut songs he never revisited. Some wound up with other artists, like "Seven Curses," "Tomorrow Is a Long Time" and "Mama, You Been on My Mind" The album features 47 tracks with Dylan accompanying himself on acoustic guitar, harmonica and occasionally piano. All tracks but four were officially released for the first time on this compilation. While Dylan recorded subsequent versions of most of the songs, the album features 15 that were produced exclusively as demos and had never been heard before except as bootlegs.
An album of unreleased recordings, demo recordings, and alternative takes from Bob Dylan's 1970 albums "Self Portrait" and "New Morning". The cover is a new artwork by Bob Dylan. The liner notes have been written by Greil Marcus, who wrote the original "Self Portrait" review for the Rolling Stone magazine, that infamously asked, "What is this shit?." Half of the songs a cover versions. Many of the songs are recorded different to how they appeared on the original albums, most of the time these versions are superior. This album is regarded as an indispensable addition to the Dylan catalog.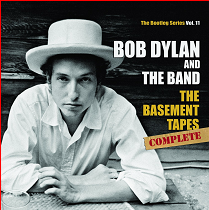 The Bootleg Series, Vol. 11
November 2014

The Basement Tapes Complete
This is virtually everything that was recorded during the famous sessions with The Band in the summer of '67. The songs are presented in chronological order, some are unheard of before. Gone are the 8 songs by The Band that were included on the original double LP that was released 1974. Everything here has been restored and gathered on 6 CDs. As well as Dylan originals you can hear songs from other artists such as Johnny Cash, Hank Williams, John Lee Hooker and Curtis Mayfield here.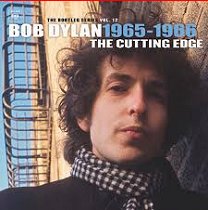 The Bootleg Series, Vol. 12
November 2015

Bob Dylan 1965-1966
The Cutting Edge
Bob Dylan's most creative period was probably during 1965-1966. During a span of 14 months he recorded and released the albums "Bringing It All Back Home", Highway 61 Revisited" and "Blonde on Blonde", all three among the best records ever in rock 'n' roll and modern music. On this 6 CD set you can hear outtakes, alternates, and rehearsals from the recording sessions of these records. Many of the songs are done differently here to how they appeared on records, words are swapped and tempos changed. Here is also the wonderful "She's Your Lover Now", that never was released on the original albums. A fantastic collection.
The Bootleg Series, Vol. 13
November 2017

Trouble No More 1979-1981
An 8-CD set with 134 tracks, most of them recorded live between 1979-1981 (there is also a 2-CD budget edition). This is from Dylan's gospel influenced period. Most live tracks are previously unreleased, but you can also find a few studio outtakes and a couple of songs never recorded before. With a great backing band and a gospel choir, these tracks are often more appealing than the cuts on the three studio records (Slow Train Coming, Saved and Shot of Love) that were relesed during this period.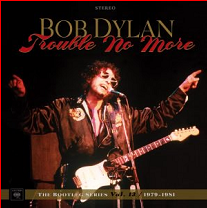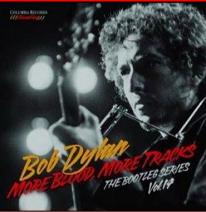 The Bootleg Series, Vol. 14
November 2018

More Blood, More Tracks
A 6-CD set where the first five discs contain the complete New York Sessions, in chronological order. By Dylan solo, with a band and in the end, mostly with bass player Tony Brown only. There are up to 15 takes on some tracks. Five tracks from these sessions made the final record. The last CD contains the Minneapolis Sessions, from where the other five tracks that made the record is picked, the only versions that exist of these tracks. All fantastic material that led up to one of his most fanastic records.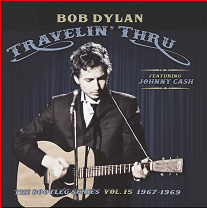 The Bootleg Series, Vol. 15
November 2019

Travelin' Thru 1967-1969
This volume tells the story of Dylan's journeys to Nashville between 1967 and 1969, over 3 CDs. Here are unreleased tracks from the John Wesley Harding, Nashville Skyline, and Self Portrait sessions. Not all available takes this time though, as on some previous bootleg releases. Here are also the recordings made with Johnny Cash, released for the first time, revealing how these two American icons shared the same musical vocabulary. Finally 5 tracks recorded, outside Nashville, with banjo picker Earl Scruggs and his sons.
The Bootleg Series, Vol. 16
September 2021

Springtime in New York 1980-1985
This set contains previously unreleased outtakes, alternate takes, rehearsal recordings, live performances and more from the period surrounding the albums Shot Of Love, Infidels, and Empire Burlesque. It reveals the many musical directions Dylan was traveling in simultaneously during this period. A few covers like Hank Williams' "Cold Cold Heart," the Temptations' "I Wish It Would Rain," and "Sweet Caroline." Here is also the fantastic 12-minute "New Danville Girl", that became "Brownsville Girl. There is a deluxe 5 CD edition and also a 2 CD set.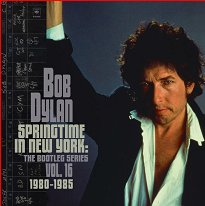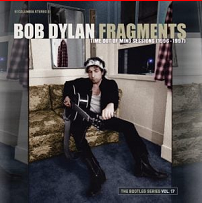 The Bootleg Series, Vol. 17
January 2023

Fragments
Time Out Of Mind Sessions 1996-1997
A 5 CD set with live versions and alternate takes of tracks from the Time Out Of Mind sessions. One CD is just a remix of the original album and one CD consist of tracks already available on the Bootleg Series, Vol. 8. These recording were produced by Daniel Lanois, not always to Dylan's delight, according to rumours. A bonus 2-CD set is also available.