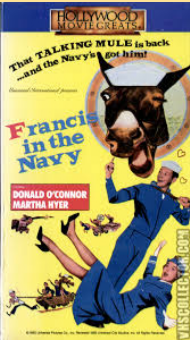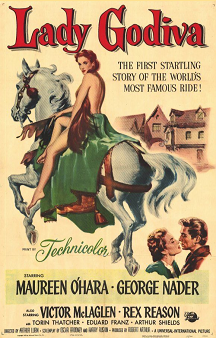 Actor

Minor role as Jonesy
Actor

Uncredited minor role as First Saxon
Lady Godiva of Coventry
1955

(De djärvas uppror)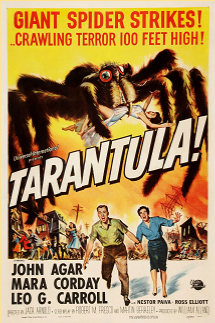 Tarantula
1955

(Giftspindeln)
Actor

Uncredited minor role as a First Pilot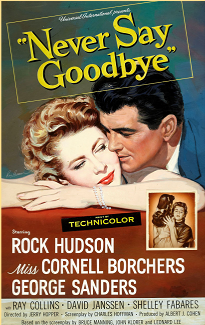 Never Say Goodbye
1956

(En läkares dårskap)
Actor

Uncredited minor role as Will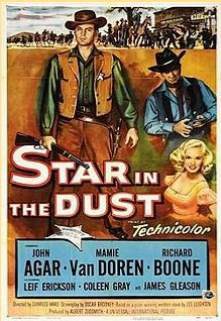 Star in the Dust
1956

(Med lagens rätt)
Actor

Uncredited minor role as Tom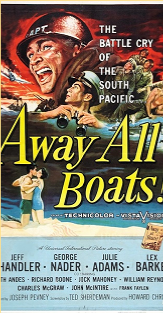 Actor

Uncredited minor role as Corpsman
Away All Boats
1956

(Stormbåtar till anfall)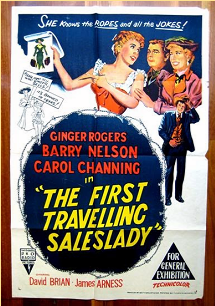 The First Travelling Saleslady
1956
Actor

Minor role as Lt. Jack Rice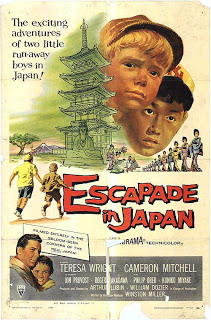 Escapade in Japan
1957
(Försvunnen i Japan)
Actor

Uncredited minor role as Dumbo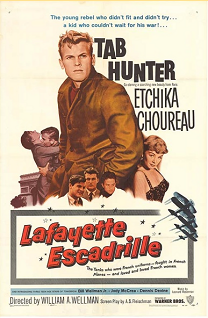 Lafayette Escadrille
1958
(Flygeskadern Lafayette)
Actor

Minor role as George Moseley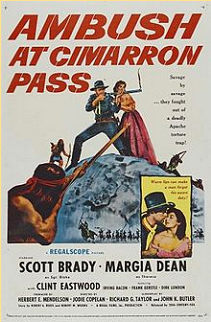 Ambush at Cimarron Pass
1958
(Apacheöverfallet vid Cimarron Pass)
Actor

Supporting role as Keith Williams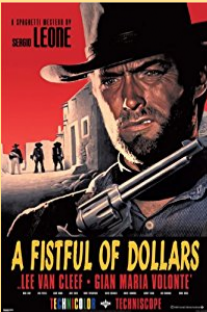 A Fistful of Dollars
1964

(För en handfull dollar)
For a Few Dollars More
1965

(För några få dollar mer)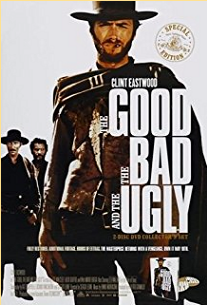 The Good, The Bad and The Ugly
1966

(Den gode, den onde och den fule)
Actor

Lead role as Blondie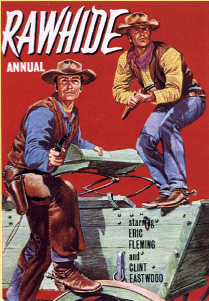 Rawhide
1959-1965

(Prärie)
Actor

Secondary role as Rowdy Yates
Actor

Cameo role as husband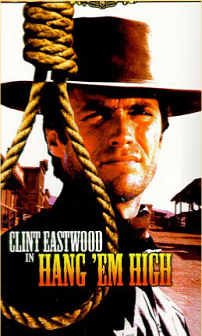 Hang 'em High
1968

(Häng dom högt)
Actor

Lead role as Jed Cooper
A black-and-white comedy film about Francis, a mule character who was popular during the 1950's and starred in a series of films. This marked the first credited film role of Clint Eastwood, playing Jonsey, a sailor.

A historical drama film, set in 11th century England about Saxons versus Normans and a hardly bare ride by Lady Godiva, played by Maureen O'Hara. Clint Eastwood played an uncredited role as First Saxon.

A black-and-white science fiction film about a giant spider that stalks the countryside after being atomically created. Clint Eastwod appears as a squadron leader in the plane that bombs the spider.

A drama film starring Rock Hudson. About a woman who has lost memory of men in her past. Clint Eastwood appears as Will, one of these men.

A western film. About a sheriff that has to fight his townspeople to retain law and order. Clint Eastwood plays a very small role as, Tom, a ranch hand.

A film about the crew of the Belinda, an amphibious attack transport in the South Pacific during the second world war. Clint Eastwood plays a minor role as Corpsman, a marine medic.

A film starring Ginger Rogers, about two ex-showbiz lady friends that get involved in selling barbed wire to highly suspicious Texas cowboys. The billing read: "Introducing Clint Eastwood", as he played one of the ladies beau'

A war film, starring Tab Hunter. Clint Eastwood was wanted for one of the leading roles, but Warner Bros. refused and he was moved to a minor role. The film is about the famous flying squadron of World War 1. Clint Eastwood plays a minor role as one of the flyers.

A story about an American boy, rescued from the sea by a Japanese fisherman and his family. The boy and the fisherman's son then go on the run. Clint Eastwood plays Dumbo, a pilot who helps the boys to escape.

A western film where Clint Eastwood was billed third upon release. When the film later was reissued, he was billed first. The film was made in Regalscope, a new colour technique that soon was to be abandoned. Rumours tell that Clint Eastwood has called the film "probably the lousiest Western ever made". This film is also notable for a scene in which Eastwood is beaten in a fistfight.

An American Western TV series. The show, about a bunch of cowboys driving cattle, aired for eight seasons, 1959 to1966, with a total of 217 episodes. In the eighth and final season, Clint Eastwood, who played the ramrod, was promoted to series star as Rowdy Yates finally became the trail boss

A spaghetti western film directed by Sergio Leone. The first in the "Dollars Trilogy". The film was identified as an unofficial remake of the Akira Kurosawa film Yojimbo. It is about a stranger that arrives at a little Mexican border town, where there is a feud between two families. He pits the families against each other in a battle of which he is the only survivor.

The 2nd film from Sergio Leone in the "Dollar Trilogy". This is about two bounty killers who join in pursuit of a ruthless, clever and brutal criminal. The church scene is concidered to be one of "the most horrible deaths" of any Western movie.

The 3rd and final film i the "Dollar Trilogy". The plot revolves around three gunslingers competing to find fortune in a buried cache of Confederate gold amid the violent chaos of the American Civil War. The film is known for its close-up and sweeping widescreen cinematography, as well as the distinctive use of violence, tension, and stylistic gunfights. It is now seen as one of the greatest and most influential Westerns of all time.

A film that consists of 5 short stories, each story about witches. Clint Eastwood makes an appearance in the final story, where a husband has a flat relationship with his wife. The film was never released outside of Europe.

An American sequel to the spaghetti westerns. A film about an innocent man who is hanged and left for dead but survives to stalk his killers. Swedish Inger Stevens played the female lead role.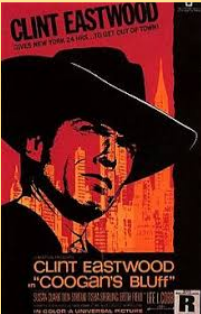 Coogan's Bluff
1968

(Coogans bluff)
Actor

Lead role as Walt Coogan
An action film. Eastwood plays the part of a veteran deputy sheriff from a rural county in Arizona who travels to New York City to extradite an apprehended fugitive, who is wanted for murder. The television series McCloud, was loosely adapted from this movie.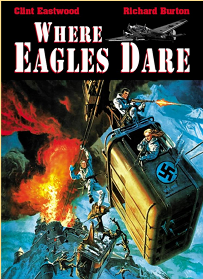 Where Eagles Dare
1968

(Örnnästet)
Actor

Secondary role as Lt. Shaffer
A British World War II action film starring Richard Burton in the lead role. It is based on the Alistair MacLean novel of the same name. A command force is sent to Germany to release a general who is kept prisoner at a mountaintop fortress in the Alps.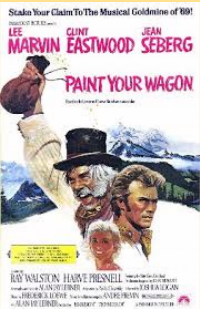 Paint Your Wagon
1969

(Guldrushens glada dagar)
Music & Actor
Credited for performing a song in the film, "I Still See Elisa".
Secondary role as Sylvester Newel/Pardner

A Western musical film starring Lee Marvin in the lead role. A film about the gold rush in California in 1853 and a gold mining town that is built up by two partners. Here is where Lee Marvin performs the classic "Wanderin' Star".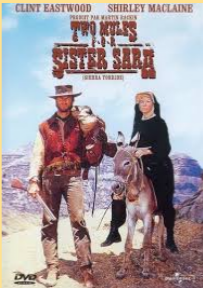 Two Mules For Sister Sara
1970

(Sierra Torrida)
An American-Mexican western film starring Shirley MacLaine (billed above Clint Eastwood in the film's credits, but not on the poster)
A Texas mercenary on his way to Mexico saves a nun that is being attacked by Juarista rebels, later to find out that she is a prostitute in disguise.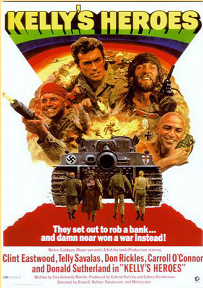 Kelly's Heroes
1970

(Kellys hjältar)
Actor

Lead role as Pvt. Kelly
A war comedy film about a group of World War II American soldiers who go AWOL to rob a bank, where $16 million in gold is stored, in the German town they are occupying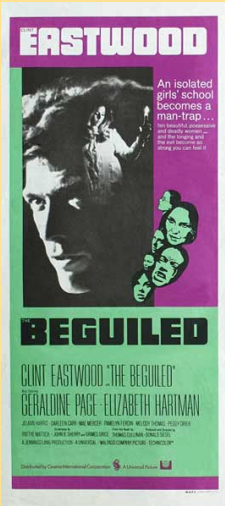 The Beguiled
1971

(Korpral McB - anmäld saknad)
Actor

Lead role as John McBurney
A drama film. During the middle of the American Civil War an injured Union soldier is rescued from the verge of death by a young girl at an all-girl boarding school in rural Mississippi. The eponymous headmistress reluctantly agrees to take him in until he has built up his health.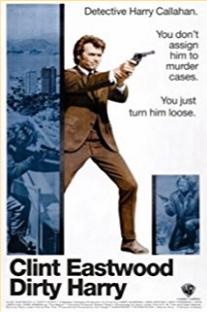 Actor

Lead role as Harry Callahan
An American action crime thriller, the first in the Dirty Harry series about San Francisco Police Department (SFPD) Inspector "Dirty" Harry Callahan. Here he chases a psychopathic serial killer.
In 2012, the film was selected for preservation in the National Film Registry by the Library of Congress for being "culturally, historically, and aesthetically significant".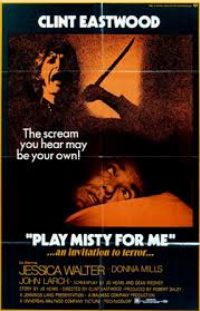 Play Misty for Me
1971

(Mardrömmen)
Director & Actor

Lead role as David Garver
A psychological thriller film. This is Clint Eastwood's directorial debut. About a radio disc jockey who broadcasts nightly. At his favorite bar, he encounters a woman who is the recurring caller who always requests the jazz standard "Misty".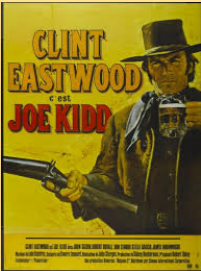 Actor

Lead role as Joe Kidd
A western film about an ex-bounty hunter, hired by a wealthy landowner, to track down a Mexican revolutionary leader, who is fighting for land reform.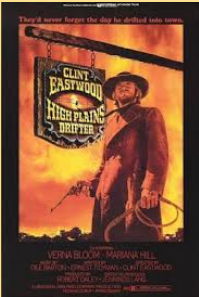 High Plains Drifter
1973

(Mannen med oxpiskan)
Director & Actor

Lead role as the Stranger
A Western film where a mysterious, prepotent stranger is meting out justice in a corrupt frontier mining town.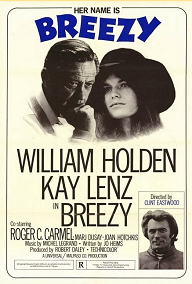 Director & Actor

Minor uncredited cameo role as "man in crowd on pier"
A romantic drama film, starring William Holden in a love affair between an older man and a hippie girl. The third film directed by Clint Eastwood, who can be briefly seen in an uncredited cameo role.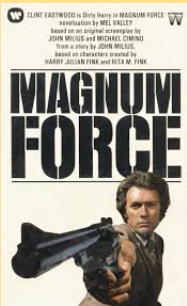 Actor

Lead role as Harry Callahan
The 2nd film as Dirty Harry. Here he tracks down a couple of vigilante motocycle cops that drives around killing criminals.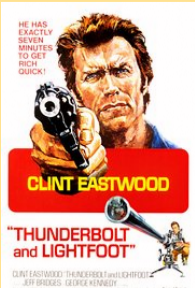 Thunderbolt and Lightfoot
1974

(Thunderbolt)
Actor

Lead role as John "Thunderbolt" Doherty
A crime film. A notorious bankrobber, Thunderbolt, teams up with a young thief, Lightfoot, to execute a robbery.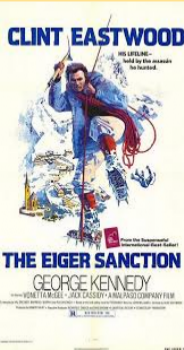 The Outlaw Josey Wales
1976

(Mannen utanför lagen)
Director & Actor

Lead role as Josey Wales
A western film. About Josey Wales, a Missouri farmer whose family is murdered by Union militants during the Civil War. Driven to revenge, he joins a Confederate guerrilla band and fights in the Civil War.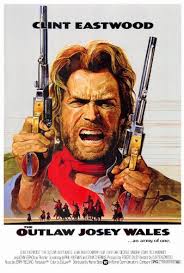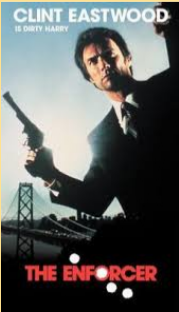 The Enforcer
1976

(Enforcer - hårdingen)
Actor

Lead role as Harry Callahan
The 3rd Dirty Harry film. About a group of terrorists that steal weapon from a military supply and blackmails the city of San Francisco. This time Harry Callahan's partner is a woman.

The Gauntlet
1977

(Hetsjakten)
Director & Actor

Lead role as Ben Shockley
An action film about a down-and-out cop who falls in love with a prostitute, whom he is assigned to escort from Las Vegas to Phoenix in order for her to testify against the mob.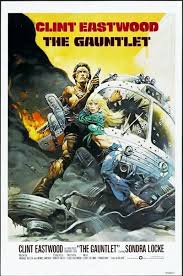 Every Which Way but Loose
1978

(Den vilda fighten)
Actor

Lead role as Philo Beddoe
An adventure comedy film, about a truck driver and fighter, with a pet orangutan, Clyde, who travels the Southwest hustling fights.

The Eiger Sanction
1975

(Licens att döda)
Director & Actor

Lead role as Jonathan Hemlock
A thriller about a mountain climber and former assassin once employed by a secret United States government agency who is blackmailed into returning to his deadly profession and do one more "sanction". He agrees to join an international climbing team in Switzerland planning an ascent of the Eiger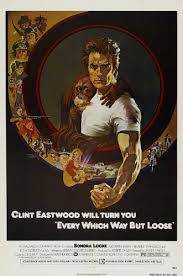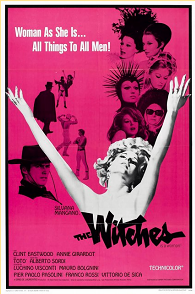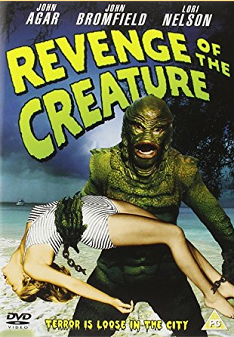 Revenge of the Creature
1955

(Monstret tar hämnd)
Actor

Uncredited minor role as Jennings
A 3-D monster horror film. A sequel to a previous success called "The Creature from the Black Lagoon". The screen debut of Clint Eastwood, who appears briefly and uncredited as a laboratory assistant named Jennings.